The Paralinx Triton 1:1 Wireless Video System consists of one Triton transmitter and one Triton receiver. The system transmits up to 1080p60 video with audio across 450' with a delay of less than 1 ms, allowing for near real-time monitoring and/or recording. One Triton transmitter can broadcast to an unlimited number of Triton receivers. Please note that the Triton transmitter will only work with Triton receivers, and the system supports 128-bit AES encryption to protect the security of your footage.
The Triton system features an HDMI input for video signals, and an HDMI output on the receiver. The transmitter incorporates an LP-E6 type battery plate, while the receiver incorporates an NP-F type battery plate with a pass through capability. The system operates on the license-free 5 GHz frequency band with 8 available channels. The transmitter and receiver each incorporate 1/4"-20 mounting holes, and the transmitter features a built-in cold shoe mounting foot so you can directly mount it to an optional camera with a hot/cold shoe. Both transmitter and receiver feature an LCD screen that displays signal strength, remaining battery power, and channel selection.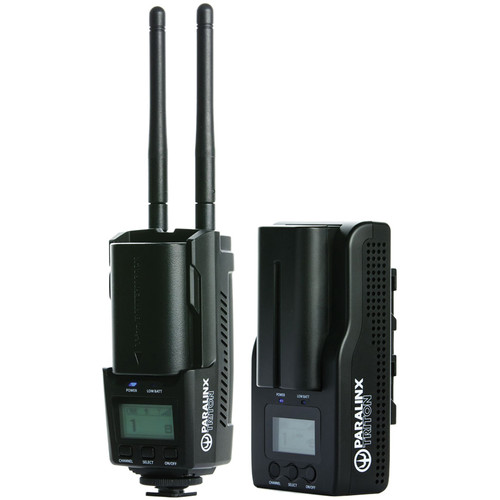 Tutti gli apparecchi fotografici e gli accessori sono revisionati ad ogni consegna per garantire a chi noleggia un prodotto affidabile e funzionale al pari del nuovo. Noleggiando presso Camera Service Rental, Gruppo Camera Service, leader in Italia per il noleggio professionale e assistenza prodotti Canon potrai usufruire di sconti ed agevolazioni sui nostri pacchetti comprensivi di ottiche ed accessori.
PERCHÈ SCEGLIERE IL NOLEGGIO?
Puoi utilizzare delle apparecchiature professionali ad un prezzo vantaggioso Tutti gli apparecchi noleggiati vengono revisionati all'atto della consegna dai nostri tecnici: potrai sfruttare l'affidabilità di un prodotto qualitativamente pari al nuovo. Puoi usufruire di sconti ed agevolazioni sui nostri pacchetti comprensivi di ottiche ed accessori.